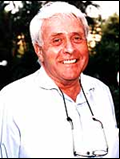 Steve's Legacy to the Rural Poor
The 17th October 2015 marked the fifth anniversary of Derek Edward (Steve) Hallam's death.
Steve's last wish was for Rejoice to continue helping the rural poor of Chiang Mai province in a similar fashion. This has not been so easy without Steve's vast experience. However, with a seriously reduced staff but with the help of volunteers Rejoice endeavours to continue in the same manner as Steve would have liked.