Three Men and a Truck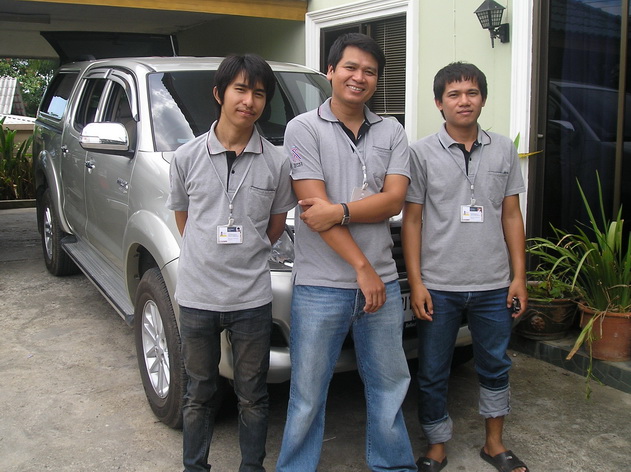 The photo shows the Outreach Team with their new (2012) pick-up truck by means of which they visit the rural communities and families affected by the HIV in Chiang Mai province.
Rejoice is quickly becoming known as the, "Three Men and a Truck" charity amongst people and their families living with HIV in the Province.
Gee (centre), is the team leader and has worked with Rejoice for the past 16 years receiving on-the-job training from Rejoices founder, the late Steve Hallam. Now, Gee uses this knowledge and the patients' trust, which he has accumulated over the years, to benefit the needy poor in the remote, rural areas of the province.
Arm (left in photo) contracted the HIV at birth from his mother. Arm, as a young boy, benefited from Rejoice's regular visits to his family home in Mae Rim. Some 7 or 8 years ago, Arm asked Steve if he could help Rejoice. He has been helping Rejoice ever since.
Wi (right) is an ethnic Tai Yai who fled the civil war in Shan State, with his family some 15 years ago. Wi previously worked part-time for Rejoice but now works full-time. Able to read and write the Shan language is a great advantage in building trust with the many migrants in the rural areas.
Here is a link to a photo album, "Three Men and a Truck"charity, showing Gee, Arm and Wi at work.