The British International School in Thailand
In August 2016 Rejoice welcomed a group of 9 medical students from Bangkok Patana School, (a British International School). The students, aged between 17 and 18 years old were hoping to further their studies at university and hopefully major in the medical field. They were staying at the Activity Center at Maekok River Village Resort (MRVR) near Tha Ton on the Myanmar-Thai border in the north of Thailand.
This was a repeat of a similar visit made last year by a group of 6 pre-medical Patana students.
The objective for the school was to introduce their international pre-med students to health care in the rural areas of Thailand, in particular the care of people living with HIV.

The visit spanned two days. The first day, together with Rejoice, the students visited Chiang Dao hospital where they attended a presentation given by the HIV head nurse, Suchada Ayuman on the various aspects of HIV and the complexity of treating the many widespread ethnic groups living with HIV. Later they met with the HIV volunteers and helped in making small candles which will be sold for the Loy Krathong Festival in November. The proceeds of the sale will be used to provide food and refreshments for the HIV patients when they attend the hospital for special meetings.
The second day at Mae Ai, the students were given a tour of the small rural hospital and then Rejoice, together with the HIV healthcare volunteers from Mae Ai, organised home care visits to homes close to the village of Tha Ton.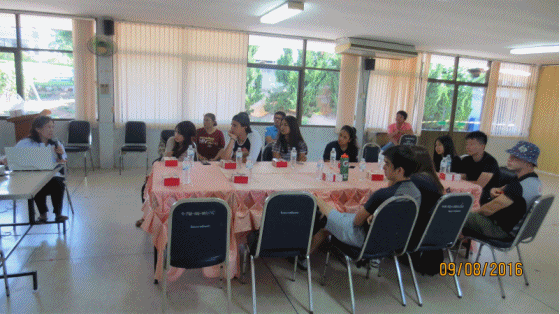 Below is a screenshot of the email received from Rosie Massingham, Community Project Coordinator at Maekok river village resort;
Related links: