Reproductive Health Education
13 July 2016, Rejoice and Healthcare workers from CD hospital made a presentation to students in Baan Mai School in the town of Chiang Dao. The subject was about basic reproductive health and prevention of STDs .
The age range of students was 10-15 years. This was first time such a meeting had taken place in the school. When asked, " Why has this not been done previously?" The teachers answered that they thought the children were too young and it is not easy for teachers to introduce this subject to their students. However they were very happy that an independent group from outside could present these topics in a relaxed and friendly way which caused no embarrassment for both students and teachers.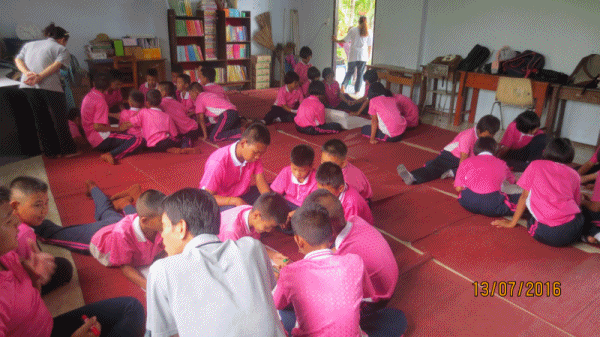 Adolescent Pregnancy Bill
The Thai Government has recently drawn up the " Prevention and Remedial Measures for Adolescent Pregnancy Bill 2016" which will come into effect later this month (July 2016)
This law identifies teenage mothers as those aged between 10 and 20 and will establish a Committee for Prevention and Remedial Measures for Adolescent Pregnancy to supervise and control the direction of work towards desirable goals. The PM will chair the 15-strong panel, whose members will come from three groups.
Here is a link to the article which appeared in the Nation newspaper recently.
Also, in Myanmar:
United Nations Population Fund (UNFPA) launches sexual health mobile app
The UNFPA is introducing a mobile phone app with facts about love, sex and health from a trusted source.
According to the UNFPA, the app breaks taboos about love and sex in a society that tends to be conservative. It was presented in an event held in Yangon on July 23.
As the UNFPA says, the 16 million young people in Myanmar (aged 10-24) are growing up in a rapidly modernizing society, where traditions and values are changing.
Young people need to be equipped to handle new challenges and to make informed life choices. But the sheer volume of information that Myanmar youth can now access online is overwhelming, and most young people do not have the skills to tell the difference between fact and fiction. At the same time, parents and teachers are often shy to talk about sexual health. Instead, young people repeat hearsay between friends, often perpetuating incorrect information and harmful practices.
To help young people learn about their bodies and to understand how to adopt a healthy lifestyle, to give them the confidence make decisions that are safe, and that they will not regret, UNFPA is introducing a mobile app with facts about love, sex and health from a trusted source. The app breaks taboos by addressing both physical and emotional topics: Safe sex and contraceptives; early marriage and unwanted pregnancy; sexually transmitted infections and HIV; puberty and menstruation; gender and body dilemmas; drug abuse and alcohol problems; and last but not least: love and relationships.
The app allows young people to find out about sensitive issues confidentially, without shame or privacy concerns. It is targeted to a wide audience in both urban and rural areas. Building on years of experience from a telephone hotline dedicated to the sexual health of young people, the mobile app initiative takes advantage of the evolving IT landscape in Myanmar, which has brought increased internet access, more affordable smart phones, and reduced censorship.
The initiative is a collaboration between UNFPA, the Myanmar Medical Association and the Ministry of Health and Sports.
The UNFPA held an introductory event that introduced the app and showed young people how to use it, as well as holding performaances by Wai La, Wine Su KhaingThein and AungHtet, and holding a theatre play about teenage pregnancy, and quizzes with prizes.
http://mizzima.com/development-news/unfpa-launches-sexual-health-mobile-app