World Aids Day 2015

This year, for World Aids Day, the Rejoice Team visited Piang Luang. Piang Luang is a small border town in Wiang Haeng district with a population of about 17,000. We travelled three and a half hours to reach the healthcare workers, man and wife Samak, and Mam at their home in Wiang Haeng. There, the plans for the following day were made which included a few home-care visits and then a visit to Koung Jor Refugee Camp. Samak and Mam directed us to Chomview Resort on the route to Piang Luang where we spent the night.
The inset photo, above, is a selfie of Arm at sunrise the following morning.
-------------------------------------------------------------------
Hui Hok Community

Hui Hok is approximately 7km from Wiang Haeng hospital and consists of small hamlets of Thai, Lahu and Shan communities.
The pictures show a house in a Lahu hamlet where a mother and her 7 year old daughter live (both HIV+). They don't have there own transport and rely on home care visits from the Healthcare workers from Wiang Haeng Hospital in order to receive their medication.
The pictures show a typical Lahu house constructed with bamboo with an indoor kitchen and open hearth with a wood fire.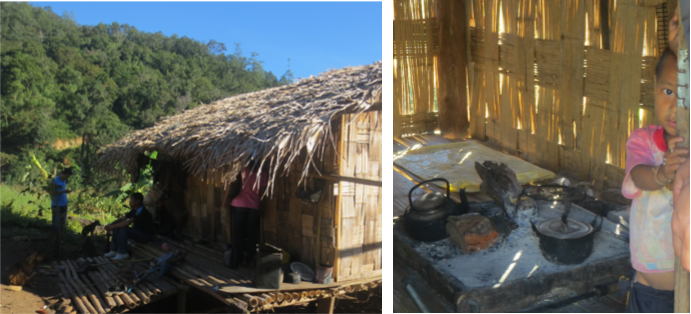 ----------------------------------------------------------------------------------------
Chomview Resort, Piang Luang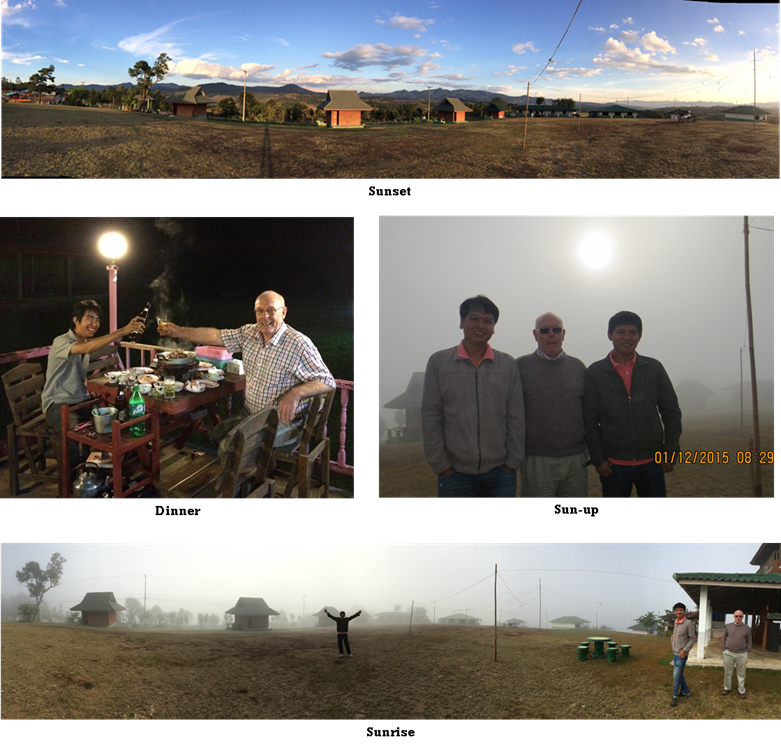 Koung Jor refugee camp
We accompanied Samak and Mam to the Koung Jor Refugee camp. As we arrived at the camp we saw a pick-up truck offloading rice and provisions delivered donated by the The Border Consortiom (TBC). The camp is home to over 500 people in more than 130 houses who have fled fighting from Shan State in Myanmar, approximately 90% being Tai Yai (Shan). The children of school age (over 100) attend Thai schools in Piang Luang town. There are 135 preschool children between 2 and 6 years old who attend a very lively daycare centre in the camp.
There is a clinic in the camp run by a nurse called Sudsuay. Medicines and provisions for the clinic are supplied by Shan Women's Action Network (SWAN). A handsome young Shan man, Korn, who is the education assistant at the camp, explained that there are evening classes to learn Shan, Thai and English languages and also computer studies (although, as yet, there is no connection to the internet).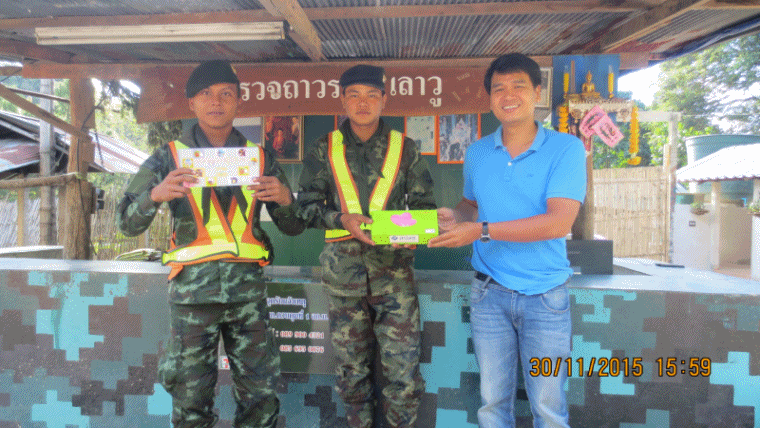 We gave information pamphlets and brochures in Shan language about reproductive health and prevention of STD's (we brought these from Chiang Mai having obtained them from Migrants Assistance Programme (MAP). Also, we brought condoms from Chiang Dao hospital.
More information about Koung Jor Camp can be found by clicking on the following links;
A first New Year's festival at the Shan camp - YouTube

Koung Jor Refugee camp