Connie's Singapore Group
Connie Low and family together with a group of like minded mothers in Singapore make regular donations of clothing and school materials for the children affected by HIV. This summer Rejoice distributed the clothing to three districts within Chiang Mai province; Mae Ai, Sanpathong and Chiang Dao. The photos show the Rejoice Team, together with HIV volunteers from the district hospitals distributing the clothes to the children and their families.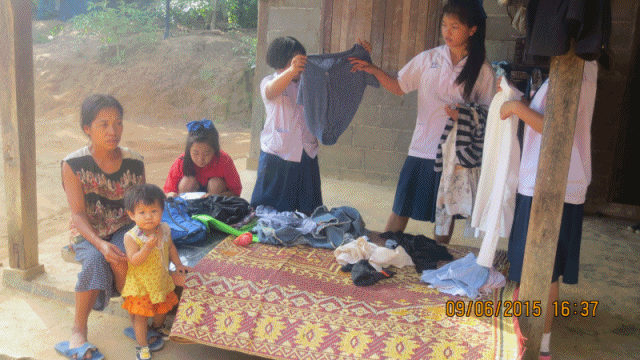 Rejoice runs a school scholarship scheme to help children and their guardians, affected by HIV, offset the costs of education. In response to requests from donors, Rejoice now has extended this scheme to cover infants and pre-school children.
Rejoice, in conjunction with volunteer healthcare workers (themselves HIV positive ) make regular visits to over 500 patients in remote, hard to reach village communities in Chiang Mai province. Currently there are 75 students benefiting from the Rejoice Scholarship Scheme and 22 infants, born to HIV positive mothers, receiving formula milk.