SDL Scholarships
SDL Language Services have been supporting Rejoice for over 5 years. Without the help and advice of Winston Wong, SDL's Thailand country manager, Rejoice probably would not exist to-day. SDL's support and encouragement following Steve Hallam's death was instrumental in the revival of Rejoice.
Still continuing today, SDL has renewed sponsorships for 12 needy students who otherwise may not have been able to attend school. Also, SDL continues contributing to the medicine and formula milk programmes as well the general running costs of Rejoice.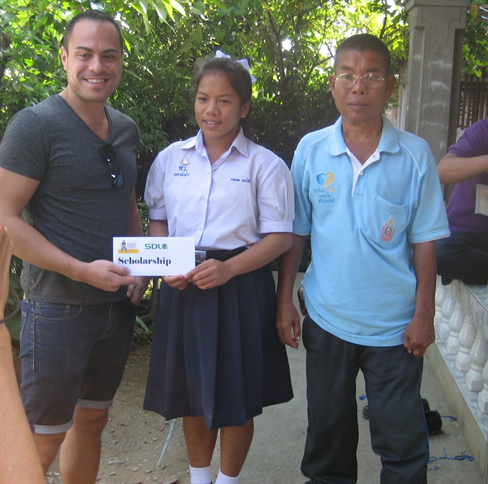 The photo shows Russ Taufa, on a visit to Rejoice from SDL(Vietnam), presenting student Narumon (and father) with her scholarship from SDL. The secondary school children each receive 7,000 baht per year which helps to cover the costs of uniforms and shoes, writing materials, a daily lunch and travel expenses for one year. (University and College students receive 10,000 baht).
Some of the children are HIV/Aids orphans being looked after by grandparents or other relatives. Some are also HIV+ and receive free anti-retroviral drugs from the small hospital in Chiang Dao town.
Rejoice currently directly assist over 500 HIV+ patients and their families regularly on a weekly basis. The children of these patients and HIV/Aids orphans are eligible for educational scholarships. Currently 66 children have scholarships through Rejoice.
All, in one way or another, are affected by the virus and their extended families are finding it extremely difficult to make ends meet. They have become much poorer and many are finding it difficult to come to terms with the additional hardship and responsibility of living with HIV. Many extended families cannot cope with the increased costs of caring for an addition child (or children) and have no option but to put the child into an orphanage.
Others, with the help of sponsorship can afford to send the child to school which often frees-up sufficient funds to allow the family to stay together. Ostensibly, the sponsorship is in the form of an 'educational scholarship' but in reality it is much more, it will;
allow the child to attend school - books, school uniforms, scout/guide uniform, sports uniforms, books, cost of transport and lunch must be provided by the child's parents or guardians
allow the child to grow-up in his/her community with their extended family
allow the child to learn to speak the language and follow the religion of their community
make it easier for the family to accept financial help – the money is received on behalf of the child
prevent the child becoming institutionalised in an orphanage
be a significant factor in deciding whether the child continues his/her education to high school, college or university.
SDL fully recognises the importance of helping communities and families whose life has been drastically been changed by HIV. The children living with HIV become seriously disadvantaged not only psychologically by of a parent but also by poverty and stigma which still runs strong amongst isolated ethnic communities.
SDL has continued to help and support not only the Rejoice scholarship Scheme but also baby formula milk programme and more recently the Education and Prevention Programmes that Rejoice organises together with the HIV volunteer healthcare workers from districts throughout Chiang Mai Province.
The photos below show the "SDL children" in Chiang Dao in 2011 and again in 2015. SDL is really helping to make a difference to their young lives.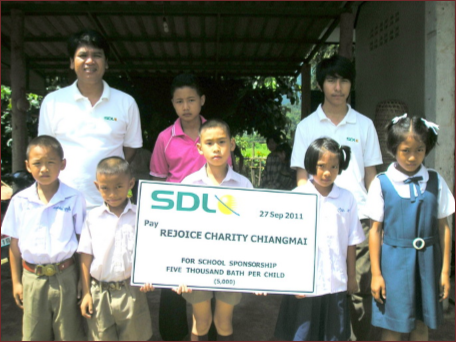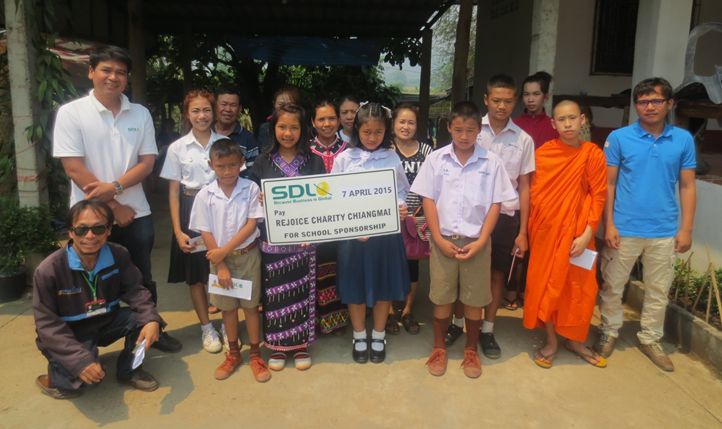 SDL Language services are based in Maidenhead, England, a picturesque town on the river Thames west of London. Each year SDL allocates a portion of its profit to needy communities world-wide. To find out more about SDL please visit their website - www.sdl.com
As Rejoice slowly expands into the more remote regions of Northern Thailand, more children in need of educational and emotional support will come to light. If you would like to make a difference to the lives of these children and their families and guardians by means of a small scholarship please visit the "Ways to Help" page. It describes the Rejoice Scholarship Scheme in more detail