Healthcare Exchange Meeting
Some four hours drive north from Chiang Mai is the small, picturesque town of Thaton, situated on the Myanmar border. It was here that Gee and Deang, HIV health care worker from Mae Ai, arranged the first "Health Care Worker Exchange" meeting. The objective of the meeting was to bring together HIV health care workers from various districts of Chiang Mai Province to exchange views and ideas in a convivial and relaxing location. The venue was the Queen Sirikit Project (Huai Muang Ngam) near Thaton.
This beautiful location offered accommodation and cooking facilities for the group of ten; 2 from Sankampeang, (Kasemsri and Noi), 3 from Chiang Dao,(Kanda, Sakaoduan and Chaleaw) 2 from Mae Ai, (Deang and Lek) and the 3 from Rejoice. (Gee, Arm and Wi). The only complaint was the low temperature when they awoke in the morning - 10 degrees centigrade!!
Topics discussed were prevention of mother to child infection especially amongst the many hill tribe communities and migrants workers, many of who are not documented to work in Thailand. Thai women are obliged to have to tests for various conditions, including HIV, when they become pregnant. If they carry the HIV virus they are started on "antiretroviral therapy" (ART) immediately and when the baby is born it is fed formula milk and not breast-fed. This has proved to be very successful in preventing mother to child transmission. However, this is not automatically available for non-documented hill tribe and migrant workers, very often the baby is born at home, breast-fed and an infected mother passes the virus to the baby. The health care workers, on their home care visits to the remote communities will seek out any woman who is pregnant and persuade her to be tested.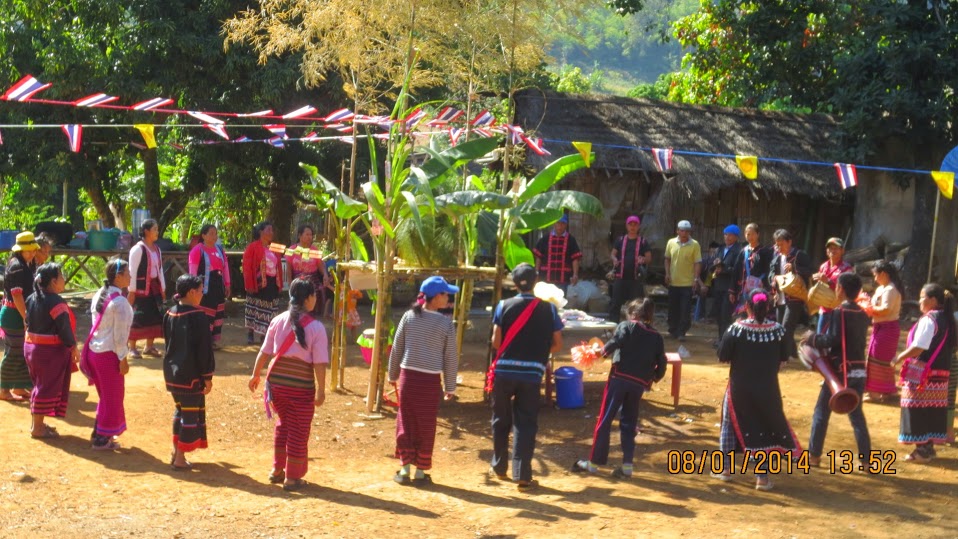 Also of concern was the increase in infections among the Lahu Hill Tribe teenagers especially at the time of the Lahu New Year (the photo on the right was taken at the Lahu village, Huaijakan in 2014 by Gee). The celebrations last for 3 days and there is much love making between the youngsters. Because of the stigma of HIV many do not disclose their HIV status with the result that the virus is easily transmitted. The solution to this is difficult, since the status of person is often only known to themselves and the health care workers, who endeavour to persuade the person to use condoms, often without much success.
With the help of the HIV health care workers, Rejoice will spread its network coverage by engaging with HIV workers in other districts, especially the border districts of Wiang Heang, Fang, Chaiprakan, and Phrao.