HIV Conference in Bangkok
In November 2014, Gee Jaiglar of Rejoice Thailand and Dr Martin Huddart, Trustee of Rejoice Foundation UK attended the 18th IUSTI Asia-Pacific Conference at The Anbassador Hotel in Bangkok. The theme was "STI, HIV and Sexual Health. Global Collaboration for Effective Prevention.
This was a three and a half day conference on all aspects of sexually transmitted infections and included presentations from leading experts from the Asia-Pacific region, Europe and the United States.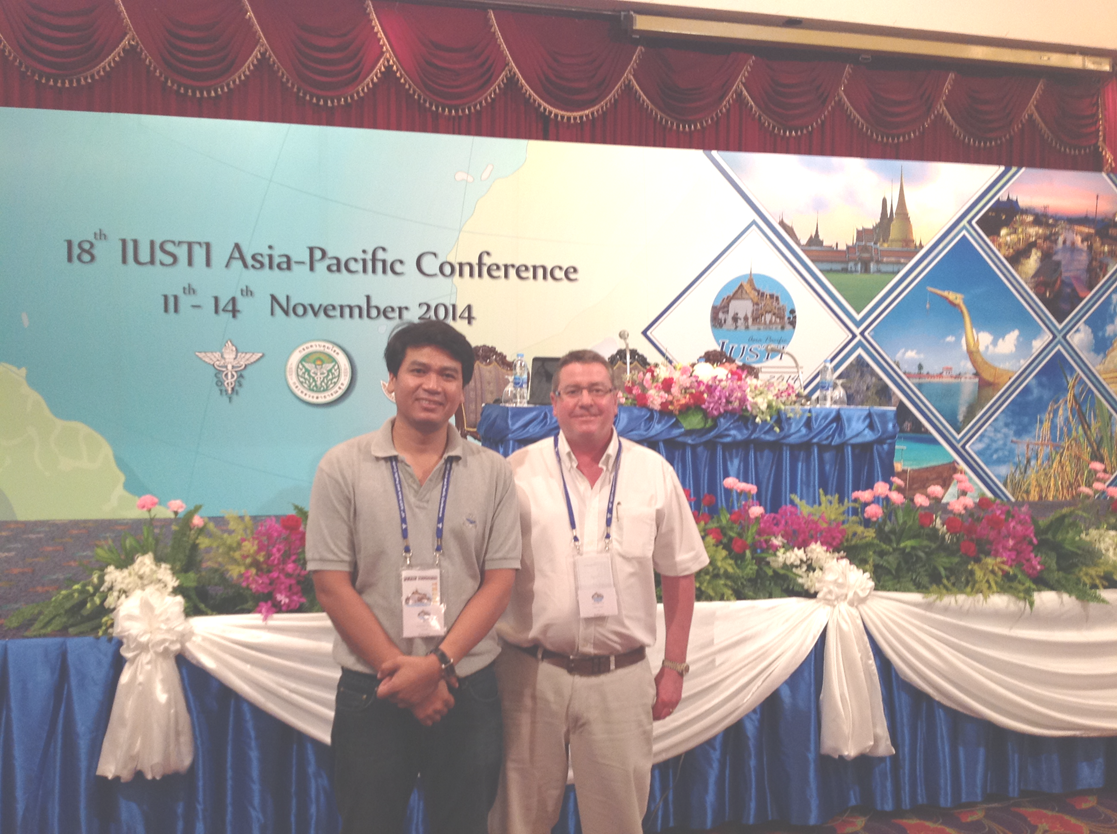 Two main WHO aspirations were trailed. Firstly the UNAIDS 90-90-90 ambitious treatment target to help end the AIDS epidemic. By 2020, WHO would like to reach a target of 90% of all people living with HIV knowing their HIV status; 90% of all people with diagnosed HIV infection receiving sustained antiretroviral therapy and 90% of all people receiving antiretroviral therapy will have viral suppression.
The second aspiration was the Global Initiative of Elimination of Mother-to-Child Transmission of Syphilis and HIV: An Attainable Maternal and Child Health Goal. To achieve this goal would require the identification of pregnant women in the first trimester, testing them for HIV and Syphilis and initiating antiretroviral and antibiotic treatment at the point of diagnosis. With the introduction of inexpensive and accurate near-patient testing kits and the reduced cost of antiretroviral drugs, WHO believes that prevention of infecting the unborn child with these devastating infections is possible.
These two WHO initiatives are fundamental to the work of Rejoice Thailand and, during 2015, the Charity will liaise with other health care providers in Chiang Mai province to discuss how best it can support these aspirations, within the financial and workforce resources of Rejoice.
In contrast to these optimistic presentations, were reports of a rapid rise of rates of HIV and Syphilis in MSM (men having sex with men) in China. This is apparently due to the previous one child policy in China introduced in the 1970's, which created a gender imbalance with 24 million "left-over men" unable to find a bride. The advent of smart phone apps and social media has helped to facilitate casual sexual encounters between men and the risk of transmission of HIV and Syphilis.
In summary, the conference was very informative and stimulating, bringing together the leading specialists in HIV and Sexually Transmitted infections from around the World, highlighting the advent of inexpensive near-patient testing and effective antiretroviral treatments and the potential to eradicate the HIV epidemic within the foreseeable future.
References:
90-90-90 An Ambitious treatment target to help end the AIDS epidemic. UNAIDS October 2014
Investment case for eliminating mother-to-child transmission of syphilis WHO 2012