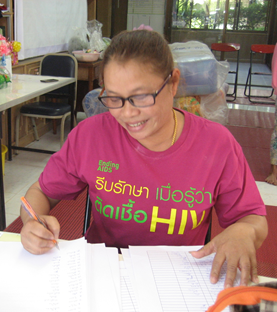 Welcome to Royal Mountain
The healthcare workers at Chiang Dao District hospital have formed a support group for everyone living with HIV in Chiang Dao District. The name of the group is กลุ่มสู่ขวัญดอยหลวง‡ (Welcome to Royal Mountain).
On the final Wednesday of each month a self-help group of local HIV/Aids victims get together for an informal meeting and lunch at Chiang Dao Hospital. The object of the meeting is to share their knowledge and experience of living with HIV, health issues, antiretroviral medicine and opportunistic sicknesses they and their family have encountered.
The meetings are especially useful for new HIV patients. They can discuss with the more experienced group members factors such as stigma, side effects of ARV medicine and the importance of a regular daily regime of taking their medicine.
On the final Wednesday of the year the group holds their AGM (Annual General Meeting), at the specially designated building at the hospital.
This year the meeting was held on December 24th with over 120 attendees many of whom travel long distances on motor bikes or the rear of a pick-up truck. The main purpose of the meeting is to communicate the latest news and information concerning HIV. Hot lunch is provided and each person brings a small present which is exchanged with another person. The meeting also provides a meeting place for people affected by HIV to meet each other, many would not have met since the previous AGM, and to discuss issues with others from different ethnic origins.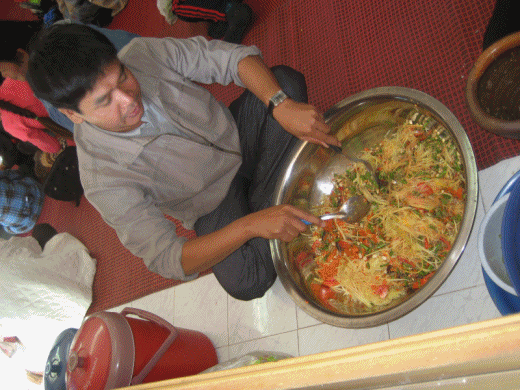 Kanda, a HIV positive healthcare volunteer, explained to the meeting that the government decided that Thai citizens and registered migrants with HIV can receive anti-retro-viral therapy (ART) free, regardless of CD4 cell count (an important indicator of how well your immune system is working). Previously people with HIV would only receive ARV medicine when their CD4 count fell bellow a certain level. Also, the patients were reminded of the importance of taking their medicine and to keep a close check on when their next appointment at the hospital will be and to bring along any unused medicine they may still have.
The Rejoice Team has been attending these meetings for over three years and are well known to all of the patients. Rejoice helps with the food and transportation costs and distributes donated clothing, blankets, toiletries and school materials to the needy.
Below is a Certificate of Appreciation from the HIV group, the local municipality and schools thanking Rejoice for the work it is doing supporting people living with HIV in Chiang Dao District.