Sexual health and HIV awareness
Originally the programme focused on HIV patients who are receiving ARV medicine from Chiang Dao Hospital. These meetings, which are held at Chiang Dao hospital bring patients together in one place. The patients from diverse ethnicities and languages have an opportunity to meet, for the first time, other patients receiving similar HIV therapy.
Rejoice provides a lunch and helps with transportation costs for those who need it. These meetings have been well received and are much appreciated by the patients.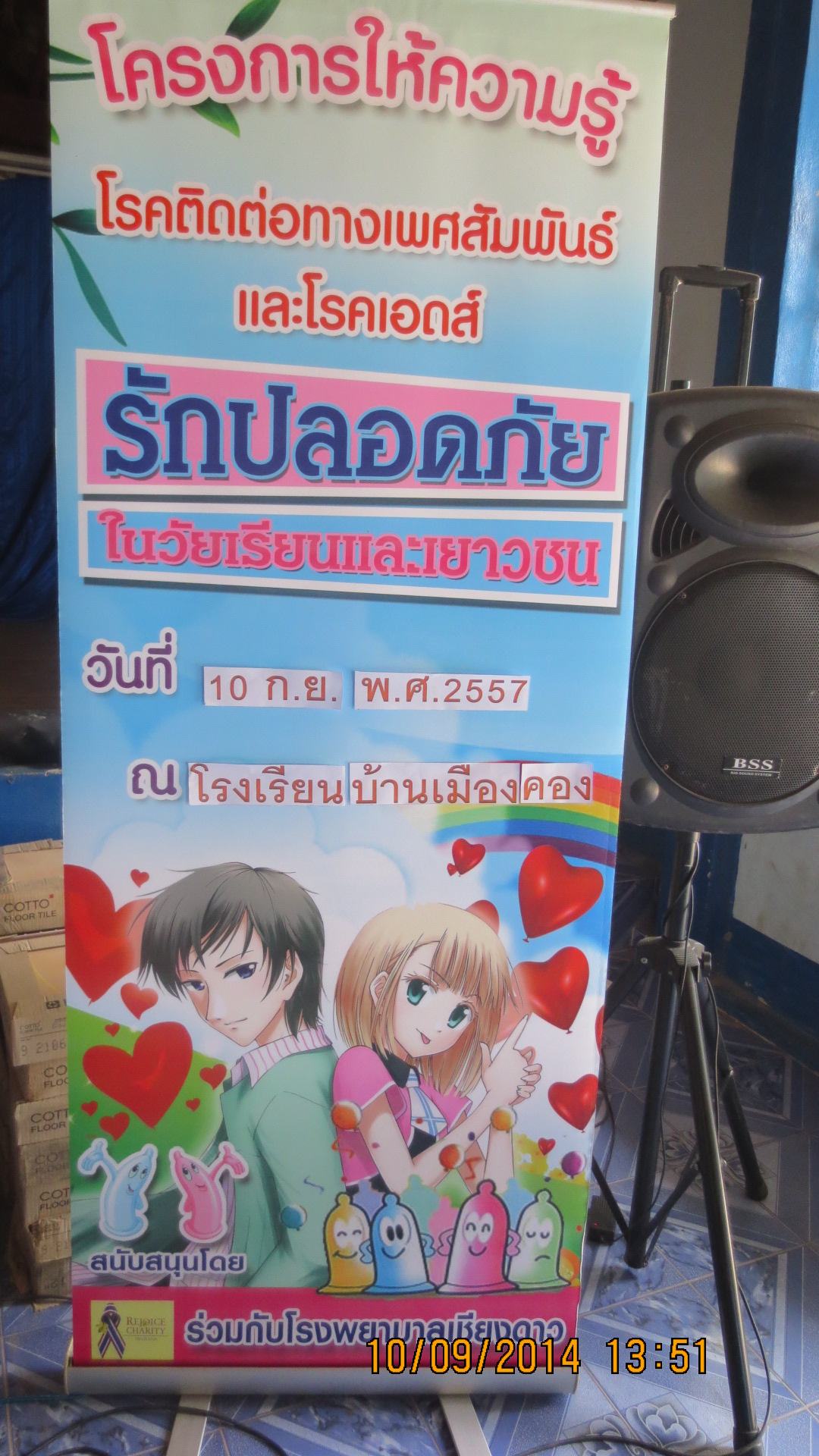 The Poster was designed by Gee, Arm and Wi and professionally finished at a local design shop. It is displayed in advance at the meeting venue. It can be re-used for future meetings by replacing the date.
School Programmes
More recently emphasis has been given to basic health education of youth. This has been achieved by networking with healthcare workers, schools and local communities together with other NGO's. The objective of the meetings is to reduce unwanted pregnancies and to educate youth, so that they are aware how HIV and other sexually diseases are transmitted and how they can be prevented. In the past year over 200 children have attended basic reproductive health classes and HIV and STD classes. The schools visited are in the more remote difficult to reach locations. The classes typically consist of children from a variety of ethnic backgrounds and languages.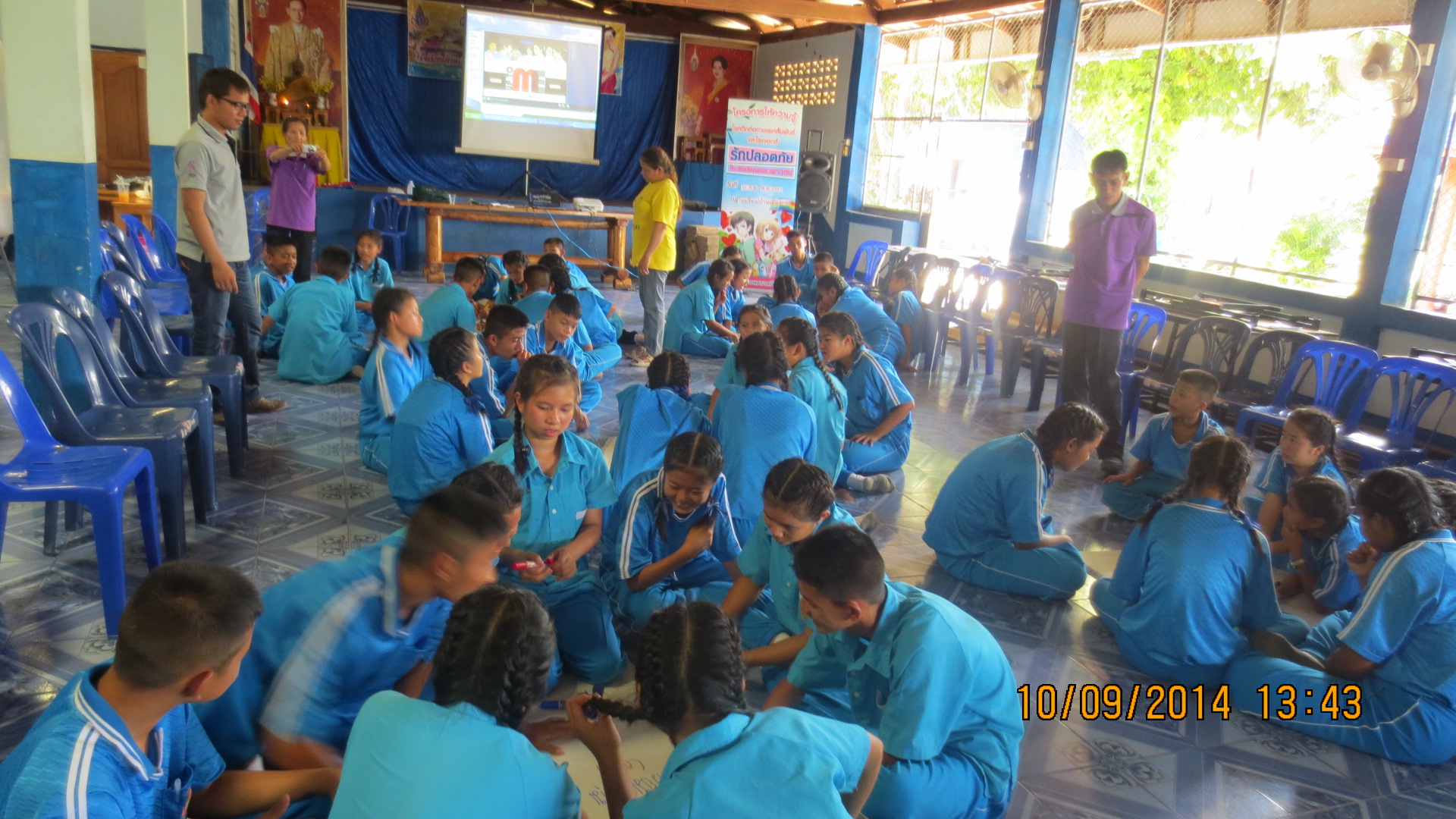 The photo above shows a meeting in progress at Baan Muang Khong school which is situated in a remote location, reached by dirt road, to the west of Doi Chiang Dao mountain.
Community Programmes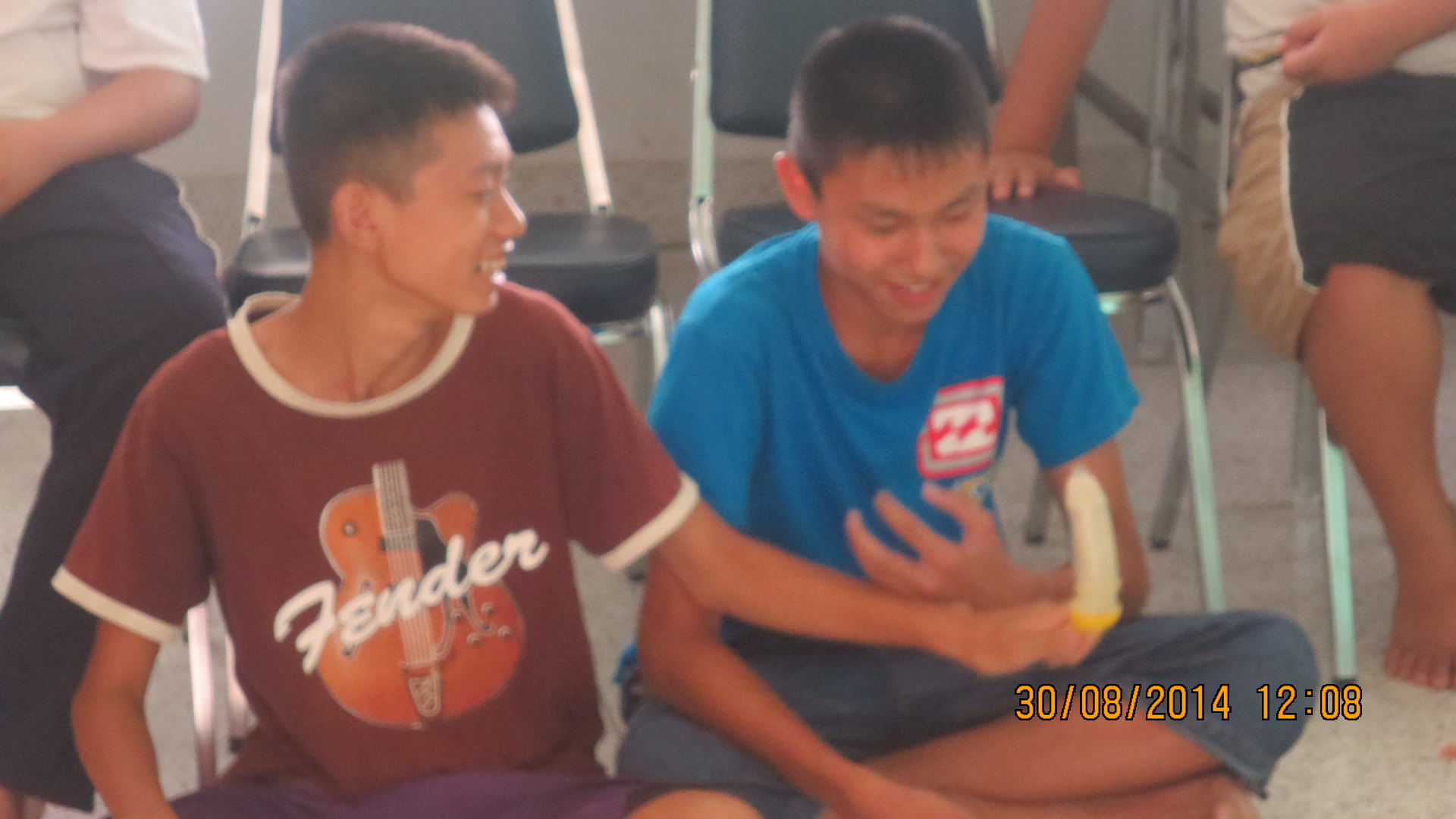 Community gatherings are also organized by Rejoice together with the local HIV health care workers. These meetings are held at local community centres, usually at weekends. Although everyone is welcome to attend, the main target of the meetings are teenagers and are more informal than the school meetings. In the past year (2014) over 250 youths have attended the meetings.
The picture on the left shows two young men demonstrating condom application technique. This meeting was held on a Saturday at Rong Wua Deng Community centre in Sankampeang District and attended by over 35 youth.
Vicky's Video Project
Vicky aged 14 years, is the eldest daughter of Aree, the owner of the Rejoice office building. Vicky together with a few school friends have entered a national competition to produce the best educational video. They choose the Rong Wua Deng meeting to make the video. Although the video is not yet finalised, Vicky allowed us to put a link to the unfinished version;
http://www.youtube.com/watch?v=Rfebpg-XP18
The video captures the informal and friendly nature the youngsters are introduced to the subject of sexual health. Good luck in the competition Vicky!