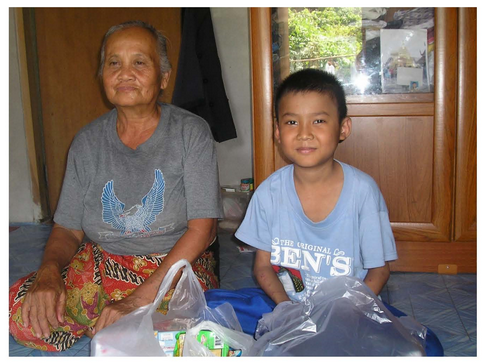 Little Boy Lost?
Dao was born in Shan State, Myanmar in 2003. The family moved to Thailand a few years later to escape the hardship of living in a civil war zone in Myanmar. They moved to a small village near Chiang Dao where Dao's grandmother and other relatives lived. Dao's father worked in the fields and orchards nearby.
The family returned to Myanmar and Dao's mum and dad became very ill and eventually died. Dao, by this time about 7 years old, was brought back to the village near Chiang Dao to live with his grandmother again.
When Dao became ill and developed sores on his body, his grandmother took him to see a doctor who referred him to Chiang Dao hospital. A blood test revealed that Dao was HIV positive and that the virus must have been transmitted via his mother at birth or by breast feeding.
By this time Dao was settled in the local school, albeit at a lower grade due to his lack of Thai language, but there were also other Shan migrant children at the school which made integration easier. Dao's grandmother however became extremely stressed at Dao having HIV and she was afraid to dress his sores. She knew that HIV leads to Aids and then you died - she knew of many people who had died because of Aids.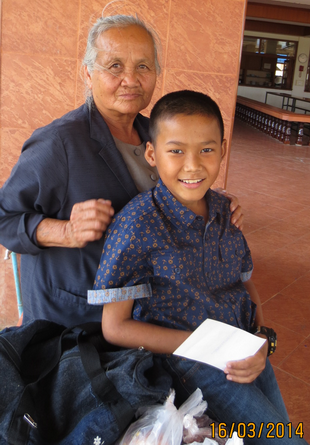 Dao's grandmother contacted the HIV health care workers at Chiang Dao hospital and told them she couldn't care for Dao and could he not go to a children's home. Persuasion and explanations about HIV were of no avail.
Together with the health care workers, Rejoice visited a Shan orphanage run by monks at a temple in Arunotai on the Myanmar border. The orphanage was well known and well run, the children attended the local school in Arunotai and also received extra Shan language lessons after school. The Abbot of the temple, however, was concerned about the HIV virus and the welfare of the other children and declined to admit Dao into the orphanage.
Dao was eventually sent to "The Home for Boys" a Government run home in Chiang Mai. The Boys Home were concerned about Dao's special medical needs and contacted an Orphanage near Chiang Mai which specialised in taking care of children with HIV, Agape Home where Dao is living today. Approximately 8 months after being admitted to the orphanage, Dao's grandmother contacted the Health Care workers at Chiang Dao hospital enquiring about Dao and could she visit him. The Healthcare workers contacted Rejoice to ask if we could assist. One Sunday in March Gee met Dao's Grandmother at Chiang Mai bus station and took her to visit Dao.
Dao was very happy to see his grandmother and Gee. He looked very well and healthy and said he was happy to be at Agape Home. Dao is taken to a local hospital for regular check-ups. Dao is certainly being well taken care of at Agape Home. He has had a very difficult life up until now, let's hope that he will have a better and happier future.