Russ Taufa from SDL Vietnam visits Rejoice
SDL is the main sponsor of Rejoice. SDL run a scheme whereby their employees are given time off work to volunteer with a charity of their choice. Russ Taufa is one such employee who recently spent one week volunteering with Rejoice.
Russ accompanied the mobile clinic to various locations including Chiang Dao, Chomtong, Sankampeang, Saraphi, Sapatong and specially arranged home-care visits with HIV health care workers from both Chang Dao and Sankampeang Hospitals
.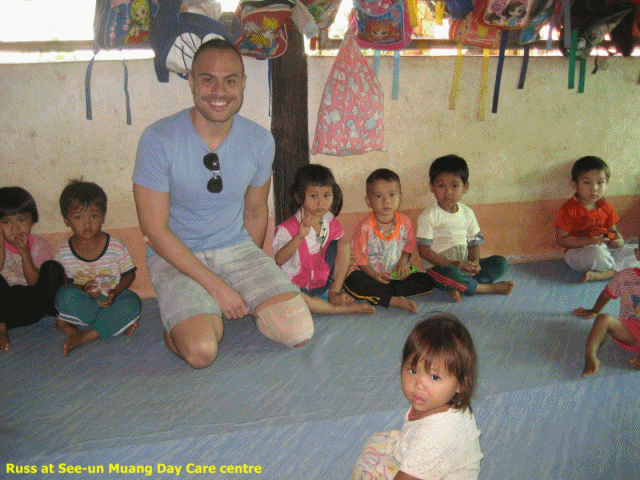 Now, safely back in Vietnam having successfully dodged the super-typhoon Haiyan, Russ emailed the following:
Two weeks ago, I took advantage of SDL's 5 day volunteering initiative to work with Rejoice Charity, an SDL-sponsored cause in Chiang Mai, Thailand providing a range of support to communities infected with and affected by HIV/AIDS. I found Rejoice through SDL, and it was a clear fit being both geographically close to me in Vietnam and supporting a cause that's near and dear to my heart. I followed up with Alan Wheeler (one of Rejoice Foundation's trustees based in Chiang Mai) to see what opportunity there was for me to help, and he graciously worked with me to organize a trip that ultimately opened my eyes, mind, and heart. As promised, I wanted to provide the SDL Foundation with a synopsis of my experience.
My first day, we went to the office and I met the rest of the team: Gee, Wi, and Arm. Alan often references '3 men and a truck' because the small team travels far and wide across the province every week to visit clinics and homes, seeing hundreds of patients each week. Gee has been with Rejoice since the beginning (about 15 years) and it shows in the relationships he and the team have built with each patient.
Throughout the week, I accompanied the mobile clinic to Chiang Dao, Chom Tong, Sankampeang, Saraphi, San Pa Tong as well as specially arranged home-care visits with HIV healthcare workers from both Chiang Dao and Sankampeang Hospitals. We also visited a daycare center to deliver supplies to young children, spent time at a sewing factory set up to provide work for infected women, and dropped off formula for mothers with HIV/AIDS in order to prevent them passing the virus to their newborns through breastfeeding.
For me, the experience was truly life changing. On one hand, I was able to see a side of the province and country that no tourist would experience – driving to remote villages and sitting with locals in their homes, being able to ask them questions (albeit through the team's kind translation) as well as share my story with them. However, the most impactful part was being able to use my time to give back in a meaningful way to those in need. It's clear the patients require the check in, medical support, and supplies the outreach team provides, but I think just as crucial is the emotional support – knowing they can count on an experienced team that cares, being there for them on a consistent basis. At every clinic and home we visited, the patients faces lit up when they saw the truck and the guys coming to spend time with them. Knowing the Rejoice team does this week on week, year on year, my efforts were really just a small drop in the bucket compared to the work they do. I have so much respect and admiration for Alan, Gee, Wi, and Arm, and I'm so grateful to them for facilitating this experience for me.
I was also able to spend some time with Nigel Haunch, Chair of Rejoice Foundation UK, as he had planned a short visit to Rejoice at the same time. Together with Alan, I learned more about the history of Rejoice as well as their plans for the future. The highlight for me was that a few years back when Rejoice was faced with closing its doors, the team was fortunately able to continue their work based on funding provided by the SDL Foundation. SDL is an important part of what Rejoice is able to do, and it's thanks to the hard work and dedication of individuals such as Winston Wong in our Bangkok office and our Foundation trustees in the UK. Knowing the support our organization provides and being able to experience that good work first hand, I can honestly say I've never been prouder to work for SDL.
In closing, I would like to thank the SDL Foundation and Rejoice Charity for making this opportunity possible, as well as Marleen, John, Beth, Liz, and Judie for working with me on approval and flexibility/coverage with workload. I've attached a few photos with a link to the full album here: https://www.dropbox.com/sh/ogd6kdgosnlieov/NBRkPXWhj_ . Moving forward, I know I will continue to do work with Rejoice, and I am encouraged and motivated to know that SDL will remain an integral part of the charity's future as well.
Best regards,
Russ