Helping The Needy
Your donation can help the poor and save lives.
If you would like to make a donation via PayPal, click on the "PayPal" button on the right.
Alternatively, bank transfers can be made directly to;
the HSBC account (GB pounds) in London or to

the Bangkok Bank (Thai baht) account in Chiang Mai or

the ABN AMRO bank (Euros) at the following:
Please let us know of your transfer by sending an email to This email address is being protected from spambots. You need JavaScript enabled to view it. so that we may confirm receipt.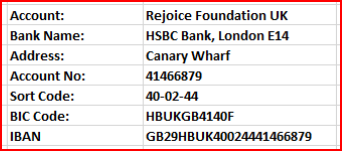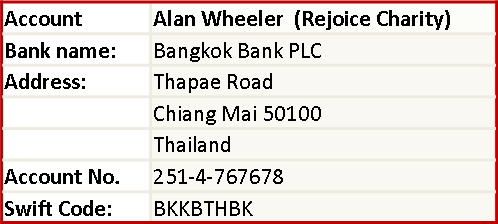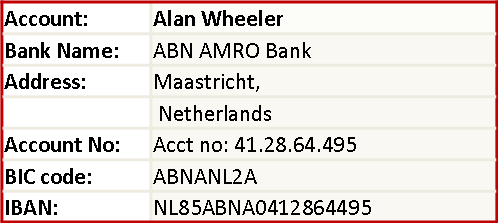 If you are a UK taxpayer, Rejoice can reclaim tax on your donation from the Inland Revenue at no extra cost or inconvenience to you.
This currently makes your donation worth an extra 25p for each £1 given.
If you pay tax at the higher rate, you can claim further tax relief in your Self Assessment return.
If your circumstances change in the future, please notify Rejoice Foundation UK

For us to benefit in this way when you donate, you can download and print this PDF form, sign it and send to the address below OR, alternatively, you could email your home address to This email address is being protected from spambots. You need JavaScript enabled to view it. and we will post the Gift Aid form to you to sign and return to;
Nigel Haunch, Chair, Rejoice Foundation UK, 119 Dundee Wharf, Three Colt Street, London E14 8AY
If you would like to make a regular contribution /donation, of whatever size, please print out and complete this standing order form with your bank details and amount pledged, then return it to Rejoice Foundation UK (not your bank) at the address below;
Nigel Haunch, Chair, Rejoice Foundation UK, 119 Dundee Wharf, Three Colt Street, London E14 8AY
Send a Cheque
If the banks are still accepting cheques and you wish to make a one-off or intermittent donation to Rejoice, please make your cheques payable to 'Rejoice Foundation UK' and send them to;
Nigel Haunch, Chair, Rejoice Foundation UK, 119 Dundee Wharf, Three Colt Street, London E14 8AY
UK registered charity number:1106175