Helping The Needy
Your donation can help the poor and save lives.
If you would like to make a donation via PayPal click on the button on the right.
Alternatively, bank transfers can be made directly to;
the HSBC account (GB pounds) in London or to

the Bangkok Bank (Thai baht) account in Chiang Mai or

the ABN AMRO bank (Euros) at the following:
Please let us know of your transfer by sending an email to This email address is being protected from spambots. You need JavaScript enabled to view it. so that we may confirm receipt.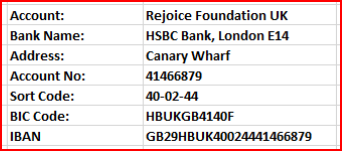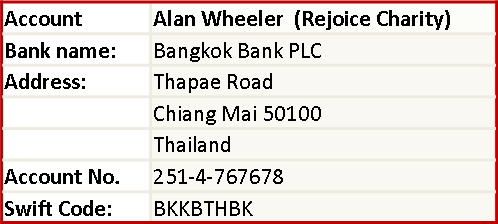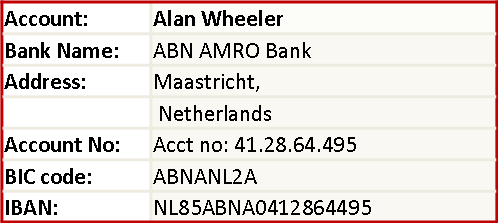 If you are a UK taxpayer, Rejoice can reclaim tax on your donation from the Inland Revenue at no extra cost or inconvenience to you.
This currently makes your donation worth an extra 25p for each £1 given.
If you pay tax at the higher rate, you can claim further tax relief in your Self Assessment return.
If your circumstances change in the future, please notify Rejoice Foundation UK

For us to benefit in this way when you donate, you can download and print this PDF form, sign it and send to the address below OR, alternatively, you could email your home address to This email address is being protected from spambots. You need JavaScript enabled to view it. and we will post the Gift Aid form to you to sign and return to;
Nigel Haunch, Chair, Rejoice Foundation UK, 119 Dundee Wharf, Three Colt Street, London E14 8AY
If you would like to make a regular contribution /donation, of whatever size, please print out and complete this standing order form with your bank details and amount pledged, then return it to Rejoice Foundation UK (not your bank) at the address below;
Nigel Haunch, Chair, Rejoice Foundation UK, 119 Dundee Wharf, Three Colt Street, London E14 8AY
UK registered charity number:1106175
Notes for Donors
Please let us know about your donation by sending a short email to; This email address is being protected from spambots. You need JavaScript enabled to view it.. So that we may contact you and thank you directly.
If you would like part of your donation to go towards sponsoring a child's education (5,000 baht) please let us know whether we should select a child on your behalf or you would prefer to select a child yourself, in which case we will send the Excel file 'Children Seeking Sponsorship' to help you decide.
Thank you all for your generous support.
Please visit our website; www.rejoicecharity.com and let your friends and relatives hear about us by forwarding this newsletter or better still printing it and use it as a discussion topic.
Your help and constructive criticism will be gratefully received so please send all your comments to;
This email address is being protected from spambots. You need JavaScript enabled to view it.
Rejoice Foundation UK Trustees
The international fundraising arm of Rejoice based in the UK was started by Nigel Haunch who, after living and working in Asia for some years, returned to London to run his own media consultancy business. Having learned about the work of Rejoice on the internet, Nigel made a visit and was moved by the scale of the HIV/AIDS crisis in northern Thailand. At the same time, he was impressed by the extraordinary achievements of Rejoice in helping those infected and affected by the epidemic, particularly in outlying rural communities.
The Trustees of Rejoice Foundation UK (all non-salaried) are as follows;
Chairperson Nigel Haunch

Vice Chair Dr Darrall Higson—a Consultant in Pharmaceutical Medicine and formerly a medical director of GlaxoSmithKline

RFUK honorary Secretary Prof Philip Evans, Director of Research for the University of Westminster,

Dr Martin Huddart (1955-2019) was a General Practitioner in East London and also a tutor at the UK's Royal Free and University College Medical Schools

Richard Anthony Murray

Alan Wheeler (BSc,Msc), a retired Consulting Petrophysical Engineer who spends much time in Chiang Mai.